Long after the traditional harvest season has ended, some winemakers are still patiently waiting for their perfect moment to harvest grapes. They are waiting for the temperatures to drop sufficiently so that grapes will freeze on the vines, and they can start with the winter harvest and production of ice wine. Namely, grapes for ice wine must be harvested and processed while frozen.
Ice wine is a style of dessert wine that is very sweet and balanced by bright acidity. It could be made from white and red grape varieties. If compared to other dessert wines, grapes for ice wines should not be affected by Botrytis cinerea or noble rot.
Winter harvest
Ice wine growers start preparing for the winter harvest already in autumn with the netting of the grapevines to protect the grapes from birds, wild boar, and other animals that love the taste of sweet grapes. After that, the waiting period starts, namely the temperatures must drop well below freezing for several consecutive days so that water in the grapes freezes. Depending on the wine-growing region (and thus rules that apply), temperatures need to fall to -7°C (19°F) or colder in Germany, and -8°C (18°F) or lower in Canada for 3 – 4 consecutive days so that grapes keep frozen on the vines.
As with all grape harvest, the right timing is everything. Ideally, the temperatures before winter harvest should be between -10°C to -13°C as this provides the optimum level of sugar and flavor in the grapes. Namely, depending on the temperatures, the sugar level varies; for example, if temperatures drop between -10°C and -12°C, the sweetness of grape juice will be in the range of 35°Bx to 39°Bx. The table below shows how grape must sugar (in %) varies based on the temperatures (in °C).
| | |
| --- | --- |
| Temperature | Sugar Content |
| -6°C | 29% |
| -7°C | 33% |
| -8°C | 36% |
| -9°C | 39% |
| -10°C | 43% |
| -11°C | 46% |
| -12°C | 49% |
| -13°C | 52% |
| -14°C | 56% |
Table (wineintro.com): Percentage of grape must sugar content based on temperatures—the lower the temperature, the sweetest the juice.
The most optimal temperatures for winter harvest are usually reached sometime between December and February, depending on the region, climate, and weather conditions. While in Canada, grapes for ice wine are usually harvested at temperatures between -12 and -15°C, and thus ice wine obtains 9–12% of alcohol. In Germany and other European countries, grapes are harvested at -7 °C or lower, and consequently, ice wine contains a lower level of alcohol, typically 7–9%.
Fun facts:
Grapes starting to freeze at <0°C (<32°F);
Grapes are solid frozen at <-11°C (<12°F);
Most optimum temperature for ice wine pressing is between -8 and -6°C (16-20°F).
Most of the growers harvest frozen grapes by hand and often during the nighttime to guarantee low temperatures. Although ice wine grapes can be harvested with machines, most growers traditionally handpicked them, which is very labor-intensive work. Hence winter harvest workforce needs to be large enough to harvest the entire crop in just a few short hours; namely, the whole process from harvest to press takes around six hours.

The basic idea of the winter harvest is that the water in the grapes freezes once the temperatures fall way below the freezing point. In contrast, sugar and other dissolved solids do not freeze, which results in a smaller amount of more concentrated grape juice. After the grapes are picked, they must be pressed while still frozen to preserve the high sugar concentration.
Ice Wine production
After grapes are picked for ice wine production, they are lightly pressed into the grape must under much higher pressure than grapes in the regular season. Since grapes are frozen when they come to the press, the ice (water) representing most of the mass is left behind in the press. Thus only a small amount of highly concentrated and sweet juice is extracted. Actually, only about 10-20% of the original crops end up as ice wine.
Then the juice goes into a slow, cold fermentation, which can take from 3 to 6 months, in order to preserve the fruit flavors and characteristics of the grape variety. Since the juice is very sweet, it can become an ideal environment for the yeast, which can stop the fermentation too early. Thus the wine can be of very low alcohol and high sugar level. However, if the process is done right, the ice wine will be intensely flavored, luscious, and balance acidity and sweetness.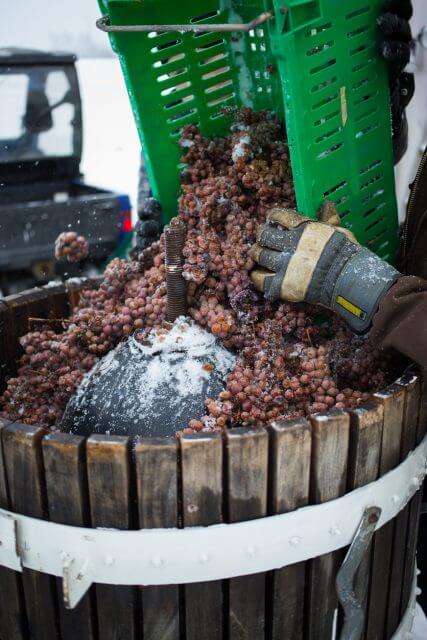 Where ice wine is produced?
The whole process of ice wine production is strictly controlled by government regulations, depending on the grape-growing region. The first ice wine is believed to have been made in Germany in the late 1700s, where they are still producing it under the name Eiswein. The main German ice wine production regions are Rheingau and Mosel. Although Germany is a homeland of ice wine, climate conditions do not allow its production every year due to climate changes.
Today most of the world's ice wine is made in Canada, where climate conditions are more appropriate for production. Most of the so-called Icewine in Canada is produced in Ontario, British Columbia, Quebec, and Nova Scotia regions, where its production is strictly regulated.
The third-biggest producer of ice wine by dessert wine volume is the United States, where ice wine is produced in several states such as New York, Michigan, and Ohio. Most of the ice wine in the U.S. is made in the state of New York.
Ice wine is also produced in other countries across the globe like Japan, China, Georgia, Moldova, and several European countries – Austria, Croatia, Czech Republic, Denmark, France, Hungary, Italy, Lithuania, Luxembourg, Poland, Romania, Slovakia, Slovenia, Spain, Sweden, and Switzerland.
Which grape varieties are used for the production of ice wine?
Ice wine can be made from white and red grape varieties. Since ice wine originates from Germany, the most typical grape used for ice wine production is Riesling, while in Canada, Vidal. Other white grape varieties used for ice wine production are Chardonnay, Chenin Blanc, Pinot Gris, and Sauvignon Blanc. As many winemakers are experimenting, ice wines are also made from varieties such as Seyval Blanc, Kerner, Gewürztraminer, Pinot blanc, and Ehrenfelser.
Ice wines made of white grapes are more full-bodied than red wines and are of pale yellow or light gold color.
While ice wines made of red grape varieties tend to be sweeter and pink or light burgundy color. The most used red grape varieties are Cabernet Franc and Merlot grapes, but ice wine is also made from Pinot Noir, Cabernet Sauvignon, or Malbec grapes.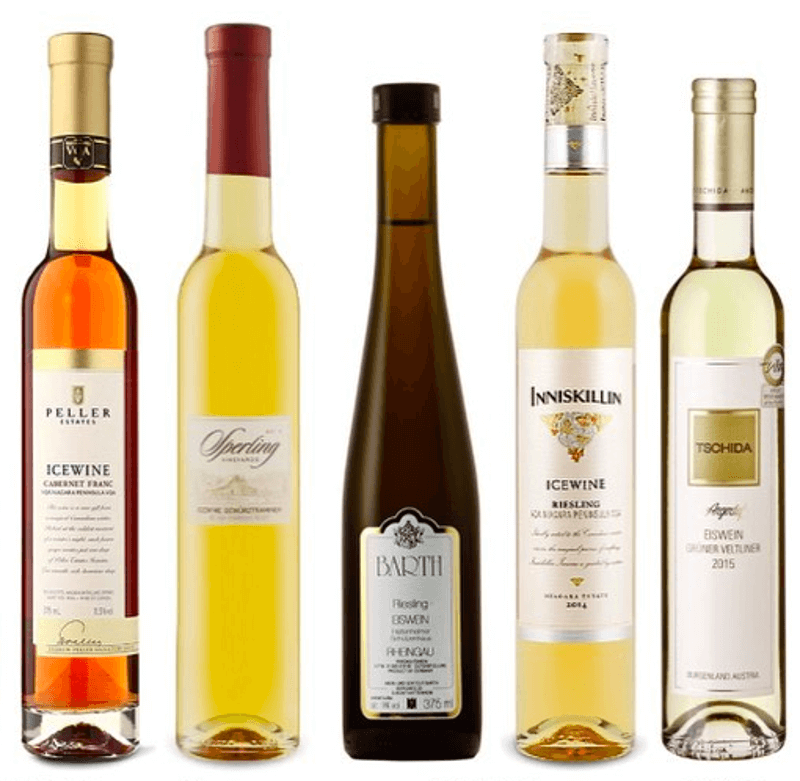 Winter harvest, ice wine production and climate change
Making ice wine is anything but easy; winemakers have to deal with predator animals, several unfavorable weather conditions during the grape growth stage, and warming winters. Often unfavorable weather conditions such as hail, wind, rain, and weather conditions favorable for rot development jeopardize grapes even before they get a chance to freeze on the vines. Another problem represents a temperature rise, due to which grapes ripe earlier, while possible winter harvest dates have shifted on later (January, February). Thus grapes need to be on vines longer, which can, in the end, result in grape shriveling instead of the winter harvest.
Winter harvest dates have shifted on later due to global warming if there are any harvests. Namely, in recent years, winemakers had lots of problems with ice wine production due to mild winters. In the warmest year of the century – 2019, there was no ice harvest in Germany, as the temperature during the winter did not reach the requested -7°C for long enough for grapes to freeze. If the warming continues, winemakers fear that ice wine will become even more of a rarity than it already is, and the centuries-long tradition of ice wine production will become a past in Germany.
On the other hand, winemakers from Canada have a little more room, as their microclimate conditions throughout the year are perfect for the production of ice wine, especially in a wine-growing region of Niagara Peninsula. Due to a more suitable climate, Canada took a primate in ice wine production and became the world's largest ice wine producer. Most of the ice wine produced in Canada originates from Ontario (90%).
Sources:
What is Ice Wine; by 35brix (online)
Icewine Harvest; by Rober A Bell (2020), on Wines of Canada (online)
Everything you need to know about icewine; by Edith Hancock (2018), on The drinks business (online)
Ostapenko, Viktoria & Tkachenko, Oksana & Iukuridze, Eldar. (2016). Analysis of market current state and historical roots of ice wine production. Technology audit and production reserves. 5. 46-53. 10.15587/2312-8372.2016.80653.
All You Need To Know About Ice Wine and Its Unique Facts; Sommeliers choice awards, by Beverage Trade Network (online)
Ice wine; on Wikipeida (online)
Climate change: Warm winter ruins German ice wine harvest, on BBC news, 2020 (online)
Ice Wine: A Special Gift of Nature Impacted by a Warming Globe; by Tom Niziol, on Wunderground, 2020 (online)
Featured image: Flickr